Share
Close
Bookbinding Basics
$80
•
Purchase required to enroll
For those interested in bookbinding, or those who like to write, or those who are just avid note takers, this is the class for you. Come and learn how to sew a non-adhesive binding with Johanna Smick. Johanna received her BFA in Printmaking from Washington University, and her certificate in Bookbinding and Restoration from the North Bennet Street School in Boston. She now lives in Birmingham where she has her own bindery and print studio.
Check out more of Johanna's work at
www.monkfishbindery.com
.
December 11 - Secret Belgian Stitch Journal
This structure was originally invented by Anne Goy, a Belgian binder, and is her variation of a Japanese stab binding that lays flat when open. This simple structure incorporates hard covers and a hard spine to a non-adhesive binding, and will be easily recreated at home with limited tools.
January 14th -
Woven Leather Longstitch Binding
This updated historic structure was commonly used for hymnals in monasteries. Today it is a popular and durable structure for handmade journals. We will be using leather for our covers and will discuss weaving variations.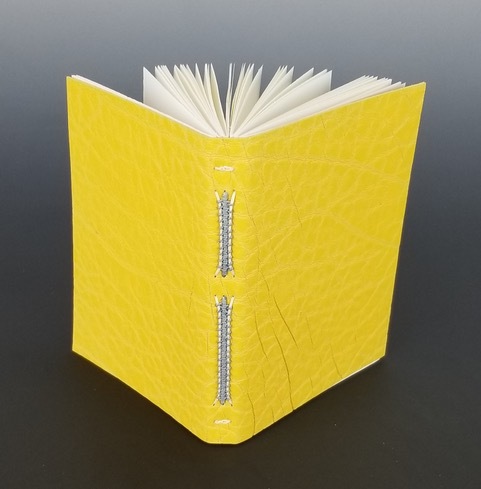 February 13th -
Italian Longstitch
There are many types of longstitch bindings. In this class we will cover one of the most basic kinds sometimes called an Italian or slotted longstitch. This simple yet elegant binding is a favorite for my journals and accessible to all skill levels. We will be using covers made from board and book cloth, but once you learn this structure you can easily use other materials such leather, paper, or even vellum.
Details:
Price: $60
Supply fee: $20
Payment due: at enrollment
Pre-requisite: None
Ages: Kids 12 and up are welcome if signed up with an adult
Schedule